The fastest way to grow your business is with strong partnerships Give your business the advantage in both quality and affordability with WholesalePrint.
Triangle Ink 1707 Superior White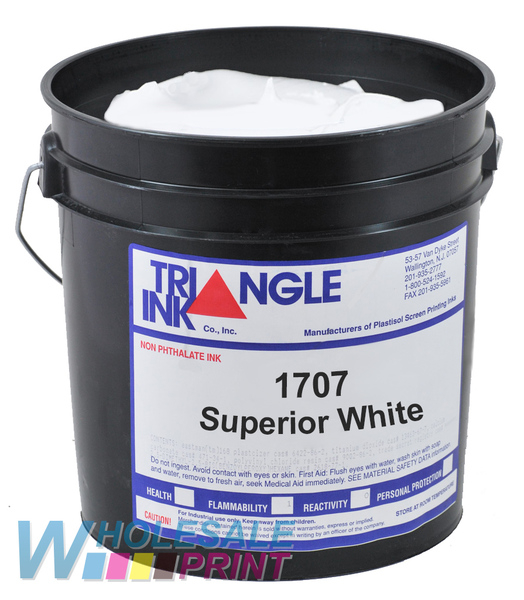 Superior White is the flagship in Triangle's professional-grade inks, and it was formulated primarily for printing on polyester garments. A thicker base than a standard white provides excellent opacity and high bleed resistance. The ink sheers down to a super creamy body, making it ideal for both automatic and manual presses.
Superior White has limitted odour during production/flashing as there's no bleaching agents or organic peroxides used in the ink.
Triangle recommends it for fleece (eg. hoodies), athletic wear, and all other garments in the polyester family. We've found in practice though that it's high opacity makes it fantastic for dark cotton tshirts as well. An extremely versatile ink that produces an outstanding quality of print with minimal effort. We're probably biased, but without a doubt we genuinely think this is the best and most versatile white ink available on the market.
This product is available in:
1 Quart (946ml)
1 Gallon (3.78L)
5 Gallon (18.93L)
For pricing and ordering, please login or register for an account.
---
People who purchased Triangle Ink 1707 Superior White also purchased...