The fastest way to grow your business is with strong partnerships Give your business the advantage in both quality and affordability with WholesalePrint.
Shinobi Inkjet Transparency Waterproof Screen Printing Film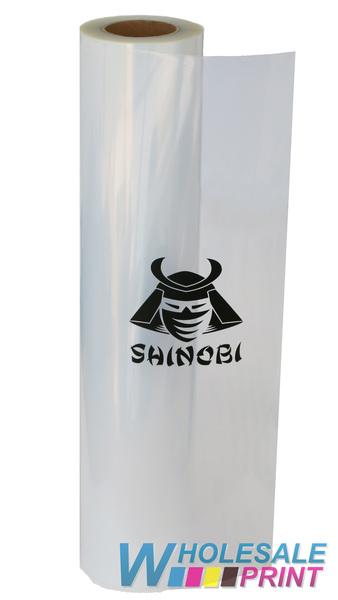 This is INKJET transparency film, it is only suitable for use in inkjet printers. If you're looking for laser film, please see our
shinobi laser transparency film
.
Go with the trusted name in screen printing and pad printing film. Shinobi waterproof film has a special coating that absorbs ink quickly, which means your edgers are crisper and your halftones are sharper. A long shelf life, coupled with reliable and consistent quality in the production of the film, means Shinobi film is extremely well suited to halftones and four colour process printing.
Shinobi waterproof film has been tested thoroughly with Epson roll-feed printers, particularly the 4000, 4400, 4800, and 4880. When using Shinobi inkjet films, you MUST print with pigment based inks, preferably the appropriate genuine inks for your printer. Cheap dye based inks are partially transparent and therefore will NOT block out the light well enough to produce a quality film. Dye based inks also have a tendancy to bleed further into the film's coating over time, leading to a very short shelf life. Where-as pigment based films store extremely well if stored correctly (away from light and heat).
This product is available in:
A4 210x297mm - 1 sheet
A4 210x297mm - 100 sheets
A3 297x420mm - 1 sheet
A3 297x420mm - 100 sheets
A3+ 329mm x 483mm - 1 sheet
A3+ 329mm x 483mm - 100 sheets
430mm x 30m roll
610mm x 30m roll
For pricing and ordering, please login or register for an account.
---
People who purchased Shinobi Inkjet Transparency Waterproof Screen Printing Film also purchased...